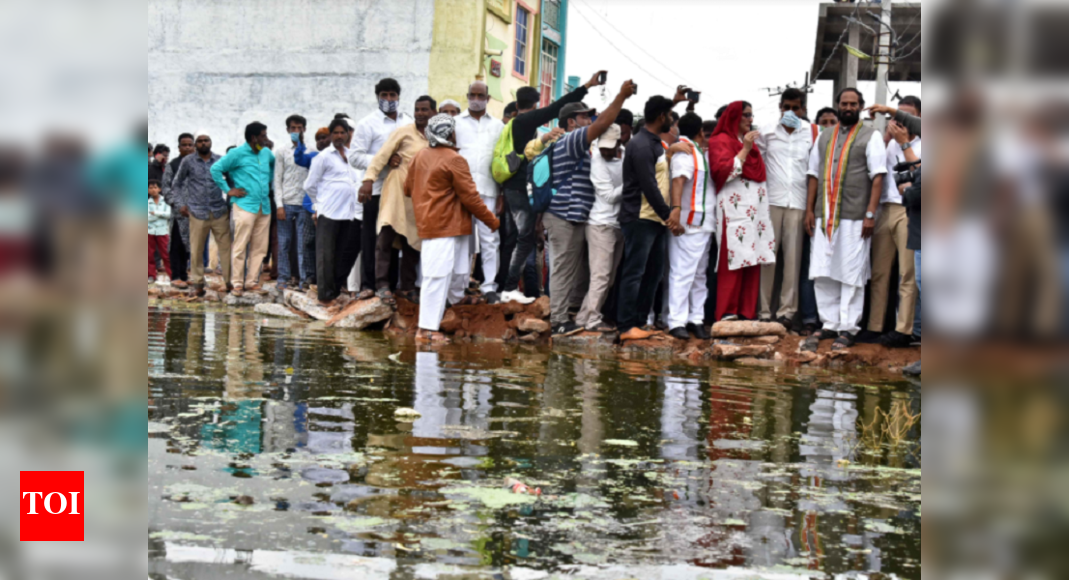 Uttam Kumar Reddy writes to Telangana CM urging immediate relief to residents of colonies that are submerged in stagnant rain water | Hyderabad News
November 16, 2020
HYDERABAD:
Telangana Congress
president N
Uttam Kumar
Reddy in a letter to chief minister
K Chandrasekhar Rao
urged him to extend immediate relief to the residents of
Osman Nagar
, Saif Nagar, Abdullah Yehya Nagar and other localities which are still submerged in stagnant flood water.
"The residents of these localities are living in miserable conditions as their houses remained submerged in stagnant rain water for the last two months. Over 5,000 people in these colonies are forced to live on the streets as they could not return to their submerged houses. Several areas under Jalpally municipality of Ranga Reddy district under
Maheshwaram Assembly
constituency are still under stagnant rain water. No efforts have been made by the authorities to pump out the flood waters," he stated in the letter to CM.
The residents of these localities have lost food items, documents, electronic items, fridge, computers, school books, furniture and everything in the floods. The stagnant flood water has turned into a breeding ground for mosquitoes. Several of the youth belonging to these areas lost their jobs as they could not attend to their duties. People including children and senior citizens are now faced with the threat of spread of water-borne diseases," Uttam said.
When the entire
Telangana
State celebrated Diwali, the residents of Osman Nagar and surrounding areas were undergoing a painful experience with no access even to safe drinking water. "When I enquired about the situation in Osman Nagar with the District Collector and other officials, I was told that they had already submitted a report to the State Government and are waiting for funds," he stated in the letter to the CM.
Uttam along with other senior leaders had visited Osman Nagar and other affected areas on November 13 and interacted with the affected families.
He demanded compensation of Rs 1 lakh to 5 lakh for each family depending upon the losses they incurred due to floods. "Steps should be taken to find a permanent solution to inundation of those areas in future by removing encroachments. The Government should conduct a medical camp in the area and permanently station a medical team till the situation becomes normal," he said.