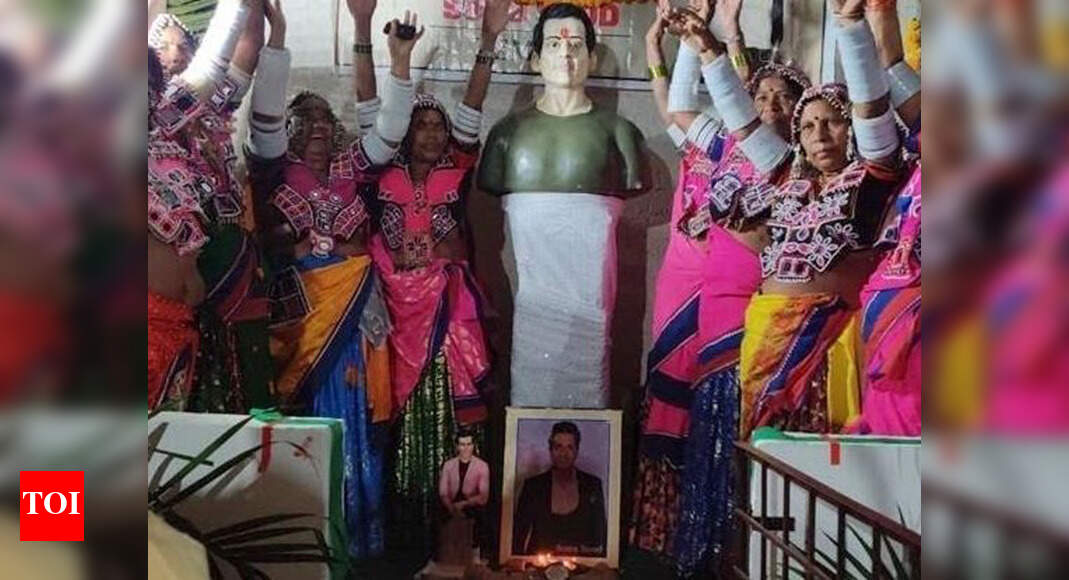 Telangana: Temple dedicated to actor Sonu Sood in Siddipet | Hyderabad News
December 22, 2020
HYDERABAD: Describing him as the 'Real hero of India', villagers of Dubba Thanda in Maddur mandal of Siddipet district in the state, dedicated a temple for actor-philanthropist Sonu Sood.
The local Banjara womenfolk also participated in the dedication ceremony. A bust of Sonu Sood, put up on a pedestal, was unveiled in the presence of its sculptor Madhusudhan Pal.
The villagers put on a tilak on the forehead of the bust and also performed aarti. A banner behind the bust put up read 'Real hero of India Sonu Sood Temple'. Another small statue of Sonu Sood was also placed near the main bust, along with a couple of photographs. This statue made by the sculptor is meant to be a gift to the actor.
"Sonu Sood truly deserves a temple as a presiding deity for helping numerous people during the lockdown and even now," local leader Giri Konda Reddy said. Giri Konda Reddy is also a ZPTC member from Maddur and belongs to the Congress party.
Reacting to reports about the temple constructed for him, Sonu Sood said on twitter: "Don't deserve this. Humbled."
The villagers are elated that they have constructed a temple for Sonu Sood. It was not an act of gratitude for them as they had not directly benefitted from the philanthropist. "He is there for anyone who needs him. That is the best thing about him," the villagers said.